Booterstown and Carysfort "Change in the Past – Progress in the Future"
It is hard to imagine that, when Booterstown Parish was formed in 1821, "wretched hovels" existed near the site, in proximity to the present Church of St. Philip and St. James.  These were swept away at the behest of George Augustus, Earl of Pembroke.  Now, in 1984, luxury flats abound, supermarkets arise and, alas, Frascati House, beloved of Lord Edward Fitzgerald, is no more.  The railway line, on which the first trains ran through the Parish on 17th December, 1834 is now electrified and of world class standard.  The view out to sea, over the wide expanse of Dublin Bay shows the ever-spreading technological age.  Great chimneys of the E.S.B. Power Station with their flashing red beacons at night, dominate the skyline.  The Bailey Lighthouse on Howth flashes its warning now, as it has done in the lives of so many earlier generations of Booterstown parishioners.  Fast car ferries enter and leave Dun Laoghaire Harbour – massive container vessels enter and leave Dublin Port.  A large private hospital complex has arisen locally.
Yet, with all this modern progress, there is a quiet, almost rural, serenity about St. Philip and St. James Church.  The promised Church clock is installed, having graced the old Findlater's Store in Main Street, Blackrock, for many years.  The mood evoked is almost reminiscent of Rupert Brooke's wistful lines in "Grantchester Vicarage":
"Stands the Church clock at ten to three?
And is there honey still for tea?"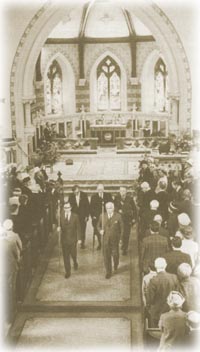 Photograph Copyright © 1971, Irish Times.
150th Anniversary Service (1971) in St. Philip & St. James.  The late President Eamonn de Valera, preceded by the Church wardens, leaving the church.