Of Organs and Organists
In 1831 the Parish Church under the aegis of its second "perpetual curate", Rev. Anthony Sillery, had its first organ installed – an instrument built by Small Bruce & Co. of Edinburgh.  The parochial organist of the day, Henry Bussell, composed special music for the occasion.  Mr. Sillery records "the immense trouble and anxiety which I underwent" in selecting the instrument and, in particular (words of a highly familiar ring!) the "trouble in paying for it".
In 1876, at a cost of £450 the organ was replaced by the present fine two manual instrument built by Forster and Andrew Ltd., Hull, Yorkshire.  A voix celeste stop was added in 1942 in memory of Francis Ormsby Lindsay and Annette Miller, two faithful choir members of Booterstown Parish.  In 1952 the organ was largely re-built as a memorial to Albert Ernest Prentice, Honorary Secretary to the Vestry over a period of 21 years until his death in 1951.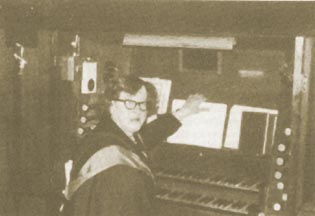 Many able hands have played on its keyboards, none more able or "musicianly" (if there is such a word!) than Kathleen Louden, our present organist, who for some years also acted as Assistant Organist of Dublin's Christchurch Cathedral.
Dr. Thomas Gonsalvez José (1853-1924) was Booterstown organist for some time and is best remembered for his hymn tune "Tara" sung to the words of "St. Patrick's Breast-plate".
The late F. C. J. Swanton (whose recitals were a feature of his tenure at the console of the Mariner's Church, Dun Laoghaire) also served St. Philip and St. James and frequently broadcast from there on Radio Éireann.  Nor should we forget W. H. Fisher, Dublin Diocesan Registrar and our Parochial Treasurer, Herbert Bradbury, accomplished musicians both, who have contributed over the years to our musical heritage in the Parish.