Of Rectors and Incumbents
It is a curious fact that, since Booterstown Parish was formed 163 years ago, only ten incumbents/rectors/perpetual curates have had charge of it; an interesting and surprising discovery.
Equally interesting is the fact that two of our parochial clergy trod the same distinguished path, via the Deanery of St. Patrick's Cathedral, to the Episcopal See of Cashel and Emly, Waterford and Lismore.  These men were Rev. W. C. de Pauley (Curate 1919-1920) and Rev. T. A. Harvey (Incumbent 1916-1933).  Rev. Canon T. S. Berry (Incumbent 1892-1913) was later to be consecrated Bishop of Killaloe, Kilfenora, Clonfert and Kilmacduagh.
Rev. Ernest Bateman (Incumbent 1933-1965) occupied the prebendal stall of Castleknock in our National Cathedral of St. Patrick and was a noted and forthright preacher in our pulpit at Booterstown, in the Cathedral and throughout the Church of Ireland in general.  His letters to the "Irish Times" are especially remembered.
OUR RECTOR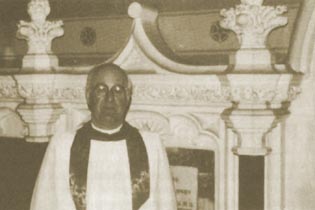 David James Osborne Barr graduated with an M.A. degree from Trinity College, Dublin where he received the Downes Prize for Oratory.  Ordained for the Parish of Derriaghey, near Belfast, he subsequently returned to the Republic to serve curacies in St. Mary's, Donnybrook and St. Ann's, both in Dublin Diocese.
Nominated to the Incumbency of St. Mark's, Pearse Street, Dublin, he also had the function of Chaplain to the Actors Church Union.  In 1965 he was nominated as Rector of the United Parish of Booterstown and Carysfort, his present cure.  Mr. Barr is Chaplain in the Republic of Ireland to the Adult Deaf and Dumb.  Additionally, he is co-ordinator of Protestant Radio and Television programmes with Radio Telefís Éireann.  Those programmes which, in particular, mean so much to the sick and elderly.
Our Rector was recently appointed Rural Dean of Monkstown and is a brother of Very Rev. Norman Barr, Dean of Connor.
FORMER CURATES – ASSISTANT
Happily many of these still serve their Church, as the following list will show.  All served under the "Rectorship" of Rev. Canon E. M. Bateman until the extinction of the parochial curacy in 1963.
 
At present
Rev. T. F. Blennerhassett

1943-1947

Rector of Howth and Canon of Christchurch Cathedral.
Rev E. A. Brandon

1949-1952

Rector of Foulksmills, Co. Wexford and Canon of St. Edan's Cathedral, Ferns.
Rev. W. G. Davis

1952-1956

Vicar of St. Martin, Norris Bank, Stockport, Cheshire.
Rev. R. H. Bertram

1956-1957

Rector of St. Mary's, Donnybrook with St. Matthew's, Irishtown.
Rev. E. C. T. Perdue

1957-1961

Limerick City Parish and N.I.H.E., Limerick, Chaplain.  Canon of St. Mary's Cathedral, Limerick.
Rev. S. D. Hamilton

1961-1963

Served in Kilmore, Cashel and Clogher Dioceses.
Since the previous edition of this Parochial History, in 1971, the death has occurred of Rev. W. J. Smallhorne, curate 1947-1949 and later Rector of St. Kevin's, South Circular Road, Dublin.